Football Day | June 2018
22 of May, 2018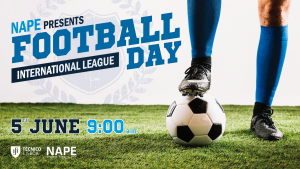 Do you want to take a break from classes to play, as we say in Portugal, the King Sport? We sure do, and hope that you join us!
NAPE's Football Day is a tournament whose main objective is that everyone gets together to have a great time.
To be a part of this activity you just need to register individually or with a team here.
Important information:
Teams are up to 8 players;
Mixed teams (girls, come and show the guys that football is for everyone);
Limited number of teams (don't wait until the last minute);
This is an activity organized specially for you, so it will be totally free of charge.
The rules will be like football, except for the throw-ins, that will be made with the foot, and the offside-rule, that will not be applied.
Sign up until 3rd of June!
Join us!
Categories