Savoring the World 2018
18 of October, 2018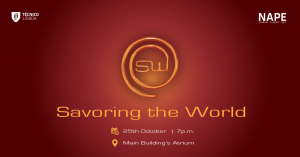 NAPE is back with another international event for you: Savoring the World – a gastronomic competition, where you are the Chef!
We want you to share your culture on an international dinner, where everyone is invited to bring some dishes, drinks and typical things from their country!
Besides the amazing time you'll pass, travelling the world without leaving Técnico campus, you still have the chance to get an amazing prize: Intra_Rail passes for all the team members – which includes 3 days of travelling all around Portugal and 2 nights at a Youth Hostel with breakfast included!
Gather your team (maximum 4 pax), bring your typical dish already cooked, serve it and decor the table in the most original way and enjoy it! 

We will wait for you next Thursday 25th of October at 7pm, in the Main Building's Atrium. It is mandatory to sign up in the form until 22nd of October (Monday).
You can find more information and do your team's registration in the following form: https://goo.gl/forms/Yl3TthPpqf6pA1rB2 .
The NAPE's Team will ensure the portuguese presence (just as a host, don't worry we won't compete, otherwise we would probably win 
) with some food and other surprises (did anyone mention liquors?!) along the evening.
So bring the best that your country has to offer and share it with us.
We need YOU to make an amazing event!
Categories