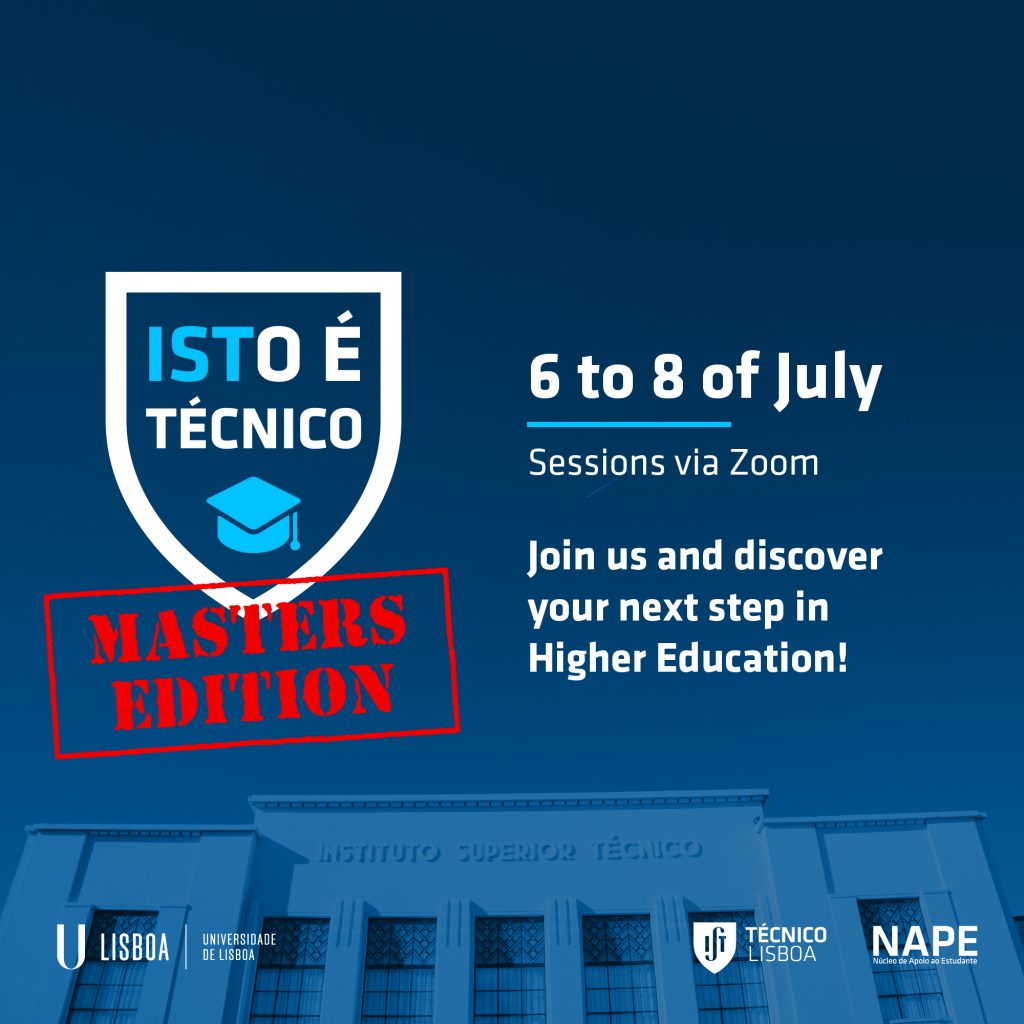 The ISTO É Técnico (This is Técnico) activity, part of in the Técnico Promotion Programme, has an edition dedicated to Técnico's Master degrees, with presentations of more than 30 courses of 2nd Cycle, in sessions with teachers and students.
Program
On the 6th, 7th and 8th of July, we will go through the entire 2nd Cycle degrees of  Técnico and also how you can apply for a Master's Degree or the 2nd Cycle of an Integrated Master's Degree, in collaboration with our Admissions Office. In these sessions you can discover the professional options that Técnico unlocks and the academic experience characteristic of our college.
In each block 4/5 courses will be presented, participating teachers and students. All sessions are via Zoom.
July 6th (Monday)
11:30 – 12:30
Session
Master's Application | Presentation
(in collaboration with the Admissions Office)

14:00 – 16:00
Block A

Electrical and Computer Engineering (MEEC)
Electronic Engineering (MEE)
Radiological Protection and Safety (MPSR)
Physical Engineering (MEFT)

16:00 – 18:00
Block B

Mechanical Engineering (MEMec)
Naval Architecture and Oceanic Engineering (MENO)
Materials Engineering (MEM)
Aerospace Engineering (MEAer)

18:00 – 20:00
Block C

Mining and Geological Engineering (MEGM)
Petroleum Engineering (MEP)
Advanced Mineral Resource Development (AMRD)
International Master in Mining Engineering (IMME)
July 7th (Tuesday)
9:00 – 11:00
Block D

Energy Engineering and Management (MEGE)
Engineering and Management of Innovation and Entrepreneurship (MEGIE)
Industrial Engineering and Management (MEGI)
Information and Enterprise Systems (MISE)

11:00 – 13:00
Block E

Bioengineering and Nanosystems (MBioNano)
Biotechnology (MBiotec)
Microbiology (Microbio)
Biological Engineering (MEBiol)

14:00 – 16:00
Block F

Pharmaceutical Engineering (MEFarm)
Biomedical Engineering (MEBiom)
Chemical (MQ)
Chemical Engineering (MEQ)

16:00 – 18:00
Block G

Territorial Management and Urban Studies (MOTU)
Civil Engineering (MEC)
Environmental Engineering (MEAmbi)
Architecture
July 8th (Wednesday)
11:00 – 13:30
Block H

Information Systems and Computer Engineering (MEIC-A + MEIC-T)
Engineering and Data Science (MECD)
Information Security and Cyberspace Law (MSIDC)
Mathematics and Applications (MMA)
Telecommunications and Computer Engineering (METI)

15:30 – 16:30
Session
Master's Application | Q&A
(in collaboration with the Admissions Office)
The Zoom room address will be sent to you in the Eventbrite registration confirmation email.
We are waiting for you!