Breakfast Women in Tech @ Técnico Lisboa 2017
28 de outubro, 2017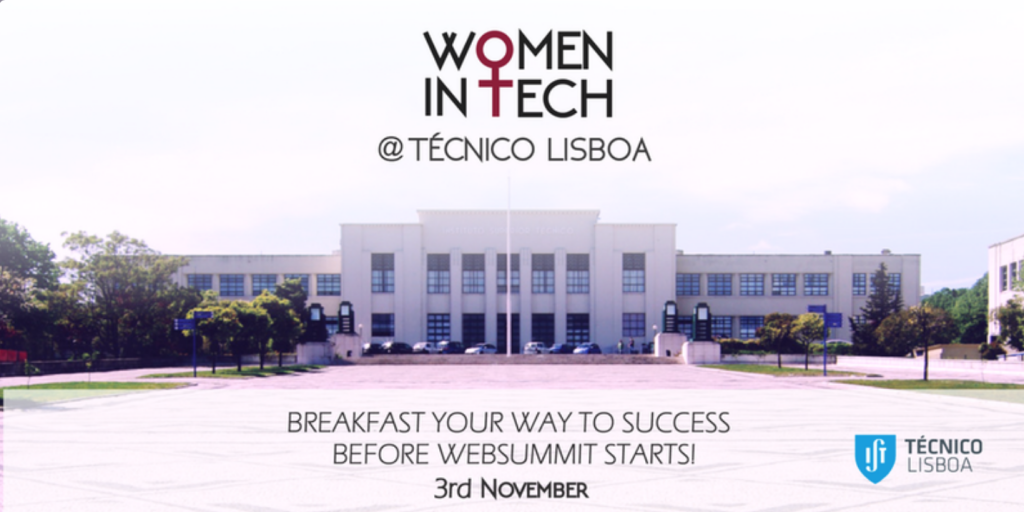 Técnico is a major school of Architecture, Engineering, Science and Technology in Portugal, involving a community of over 12,000 people.
Women are underrepresented in science, technology, engineering and mathematics all over the world and we are not an exception with only 30% women admittance this year. For us, this Web Summit parallel event will be a great opportunity to promote gender equality in our faculty community and country.
The Student Support Unit (NAPE), at Técnico Lisboa from Lisbon University, reached out to Isabel Folk, considering her experience with Web Summit parallel events, in order to create an event to our community and that's how Breakfast Women In Tech @ Técnico Lisboa was born.
In 2010, Técnico Lisboa made a tribute to three revolutionary and pioneer portuguese women, all of them Técnico's alumnas:
Maria Amélia Chaves, the first Portuguese female engineer;
Isabel Maria Gago, the first female professor of a national engineering school;
Silvia Brito Costa, the first full female professor in engineering school in Portugal;
We, at Técnico Lisboa, will be happy to receive you. We have 150 tickets for you! Make your reservation on our Eventbrite event and join us for a breakfast while promoting the growth of women in STEM disciplines.
The program will be released soon!
Técnico                                                    Theme                                                    Speakers
Organizers                                                       Map                                            How to get here
Categorias